Thunder Coffee
Dropping a milk bottle on the floor. Buying a picture postcard of an angel. Beating rugs in the backyard within the backyard where the clothes-line posts look like a ship, and the sun, a coin at the bottom of a distant well.
To lose one's wallet in an earth closet. To know one's place in the hierarchy and to feel the loss deep in one's soul when the new balloon bursts.
And still be able to keep all one's balls in the air at once by the gate while the jukebox is playing and big brother is scoring with a girlfriend.

Everyday events in a backyard setting are the fulcrum of these short stories about a not particularly average girl whose essential attribute is that she doesn't resign herself, doesn't give up, and doesn't close her eyes to anything.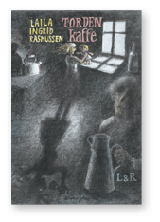 Thunder Coffee
Short Stories 2006
Lindhardt og Ringhof
● Press