Déjà-vu
Déjà-vu takes place in Copenhagen, where a young man wanders in search of drugs and the meaning of life. Passive, and sometimes pretty out of it, he slips in and out of a variety of groupings and locations: art galleries, laundromats, cafés and parks, plus a bar by the name of Déjà-vu – an odd place where he meets a pair of degenerate, criminal twins.

There's drinking, drugs and crime novels, movies and computer games. Occasionally a series of mysterious murders is also committed in a well-known park in Copenhagen, and a blue Ford Fiesta is seen repeatedly on the streets.

The young man asks himself what form of coherence connects everything, and whether there's any coherence at all.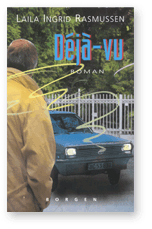 Déjà-vu
Novel 1994
Borgen
● Press
● Read excerpt (dk)