Prerequisites For Life
Prerequisites For Life is the flickering narrative of two people's travels in Spain, Portugal and Morocco.

The narrator registers life around her during the course of these travels and reflects about the conditions under which life unfolds –geographically, climatically and biologically, as well as existentially.

Along the way, the narrative moves from microorganisms on the ocean floor to the Dakar motor rally and out to the furthest solar systems.

Prerequisites For Life is a narrative about - and a tribute to - life itself.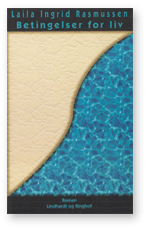 Prerequisites For Life
Novel 1997
Lindhardt og Ringhof
● Press
● Read excerpt (dk)